Product name: Golden Model skin rejuvenation 360 magneto optic ipl shr super hair removal machine
We are looking for distributors all over the world.


We can help you make your logo on the machine,

Welcome the OEM and ODM order.

1. What is magneto-optical beauty?

At present the most advanced high-tech beauty project, the application of magnetic crystals to promote strong pulsed light selective photolysis and the role of stimulating principle, directly according to the skin surface,Skin under the premise of freckle, hair removal, acne beauty effect.



2. What is magneto-rejuvenation?

Magneto-rejuvenation technology is an innovative technology that can be used to solve a variety of benign skin lesions, such as epidermal acne, senile plaques, thick pores, indecent blood vessels or other stains andRemove excess hair. In order to achieve a special cosmetic effect that satisfies the patient, it provides a safe, non-invasive method to accommodate different skin conditions, which is called magneto-opticalRejuvenation.




Results of



Maybe you want to know:
1. How does magneto-optic rejuvenation work?
10-30 minutes before treatment, usually in the treatment area to be coated with cold gel, you may be asked to wear dark glasses to protect the eyes from strong light exposure. Treatment, the magneto-optic rejuvenation treatment instrument light guide the treatment of skin, and began to release the pulse light. You may feel a little bit of hot feeling. No anesthesia. The entire course of treatment usually requires 4-6 treatments to achieve the best results, minimal side effects and high satisfaction. Each treatment takes about 15-20 minutes.
2. magneto-rejuvenation to achieve the desired effect requires several treatments?
Because the number of treatments depends on the size of your skin needs to be treated and the degree of disease, the general course of treatment takes about 4-6 times, after each treatment of skin lesions will be significantly improved.

3.Why do you need multiple treatments?
The main purpose of dividing the treatment into several times is to minimize the risk of side effects while making the skin progressively improved. The most important thing is that the treatment without downtime, after the completion of each treatment you can immediately resume normal life and work, which is the way the modern people aspire.

4. Does the softening of skin rejuvenation are safe and can hurt the skin?
The magneto-rejuvenation hair removal technique is a non-exfoliating dynamic method that provides a non-invasive method to accommodate different skin conditions. So safe and effective will not have any damage to the skin.

5. What skin care is needed after treatment?
Do not need special care, but to point out that must be treated to avoid sun exposure, to avoid ultraviolet radiation, 24 hours without sun exposure, every two intervals between 28-45 days, after treatment you can see the full The overall improvement of the skin, all facial defects caused by sunlight damage and light aging, large pores, dark skin color or other abnormal conditions will be significantly improved and eliminated. E light rejuvenation technology can improve the skin to make the skin smooth and delicate, can be used for neck, chest and body parts.

6. What is the difference between magneto-optical and traditional beauty methods?
In the past ten years, tender skin surgery has undergone tremendous changes, the initial use of grinding and chemical deep peeling, and then deep laser wrinkle surgery, although these methods in the treatment of skin light aging in some aspects of a But the customer usually takes some time to stop working, accompanied by unbearable pain, potential side effects and loss of income due to downtime.
At present, some lasers can be used to treat brown spots, some other lasers can be used to treat brown spots, and some can be used for warts under the premise of overall improvement of skin lesions and skin structure. Magneto-rejuvenation can treat the entire face, which brings pleasure beyond the ordinary beauty of the way. Usually in more than five months time, after 5-6 times of treatment, magnetoence rejuvenation surgery can provide patients with a significant improvement in the effect. Very low risk to customers and beauticians are from great satisfaction.

7. Can goggles be permanently hairned? After the finish will not affect the body sweat?
Magnetoide hair removal device to launch a special spectral section of pulsed light can penetrate the skin directly to the hair follicle roots, the use of hair follicles in the melanocytes in a specific wavelength of light absorption, so that the hair papilla pyrolysis, selective damage to the hair nipples, The damage to the surrounding tissue at the same time to achieve the effect of removing hair, and can also achieve the effect of rejuvenation. Because the sweat glands from the hair follicles there is a distance, and sweat glands and no melanoma cells, so sweat glands will not be hurt, it will not affect the body perspiration

8. Did you recycle?
Hereditary lesions do not relapse, such as: genetic freckles, chloasma and red blood; due to endocrine disorders or sun exposure caused by the disease, may relapse. Which need to adjust your diet with the law of life.

9. Magneto-beauty equipment has many advantages, it can also improve a variety of skin defects?
The treatment of magneto-optical beauty instruments breaks through the limitations of traditional localized lesions. So that the effect of cosmetic treatment to face every place. The magneto-rejuvenation instrument can also treat the following symptoms: telangiectasia, skin erythema, pigmentation, fine wrinkles, daylight damage, brown spots, large pores, whitening skin. In the clinical response, all patients with skin structure, fine wrinkles, irregular pigmentation spots, large pores and telangiectasia have improved.
Comprehensive treatment of the skin to effectively improve the texture of the skin and restore the skin elasticity of the skin The formation of new collagen fibers produces a smooth tissue structure: thinner pores, fine lines and wrinkles reduced, and can be reduced to the limit - to make the skin more rich elasticity. 14 months after the excellent results, the patient's positive evaluation. A large number of treatment cases reflect the long-term data of the treatment of facial erythema and facial redness in patients after 14-18 months of treatment, 80% of patients with their last treatment after the same situation, very few people Purpura and water phenomenon, most of the people and 1-5 days of recovery period, the treatment interval in 21-45 days have a good effect, all cases reported no scars of the case report. Magnetic beauty technology for the beauty of the people to provide a "non-invasive, non-exfoliative" safe treatment for the majority of patients are willing to accept. Magneto-rejuvenation technology is really non-invasive rejuvenation technology, the traditional rejuvenation technology is usually used grinding and chemical deep peeling, and then deep laser wrinkle surgery. Although these methods have some effect in the treatment of certain aspects of skin aging, the customer usually takes some time to stop working, accompanied by unbearable pain, potential side effects and serious disruption caused by daily work. The magnetic light rejuvenation with non-stripping, non-invasive treatment, low energy density of rejuvenation treatment, truly fast, no downtime, won the customer satisfaction.

Our Workshop: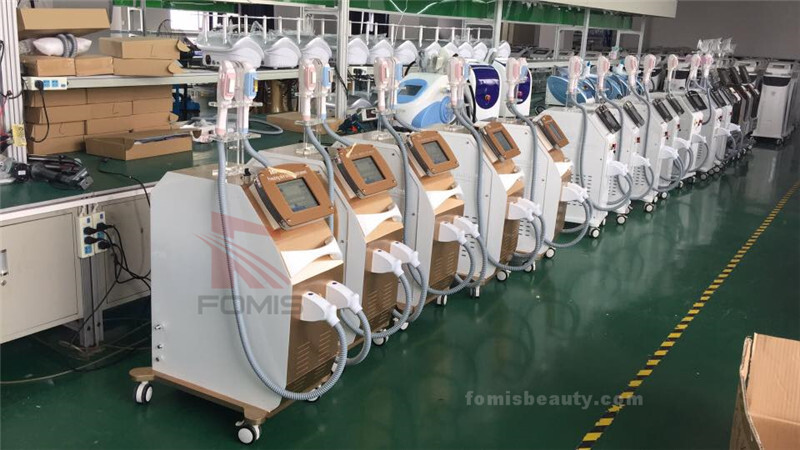 Packing of 360 magneto optic ipl shr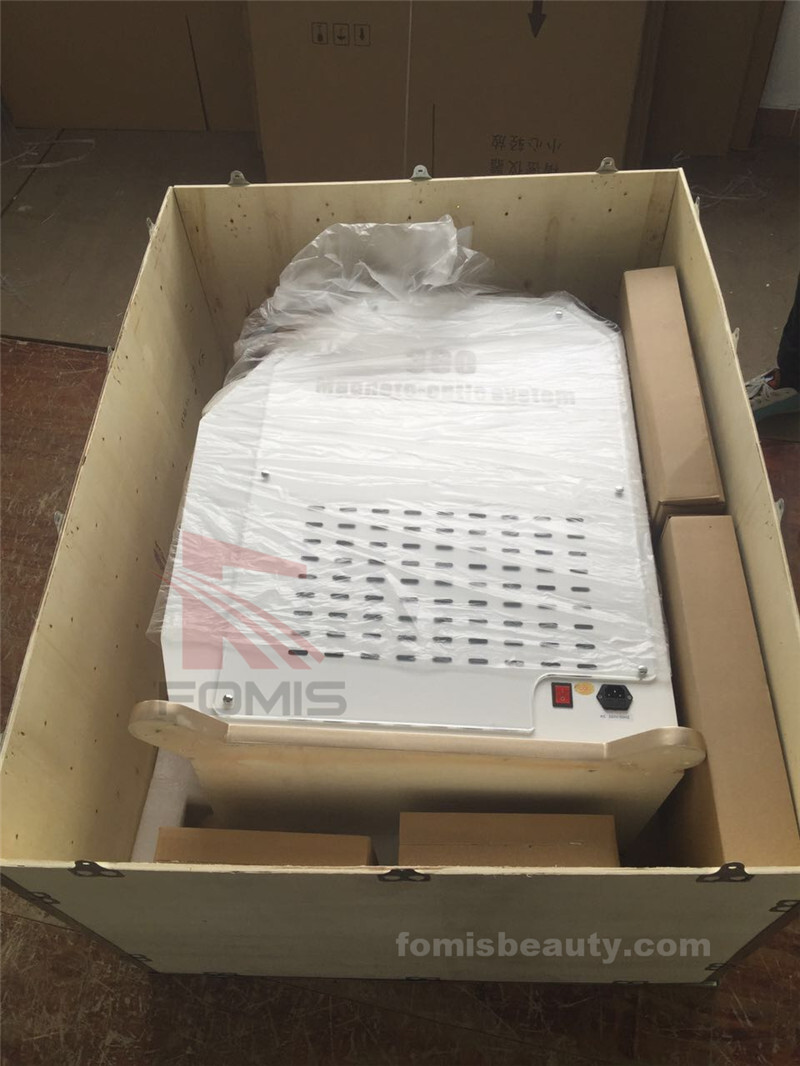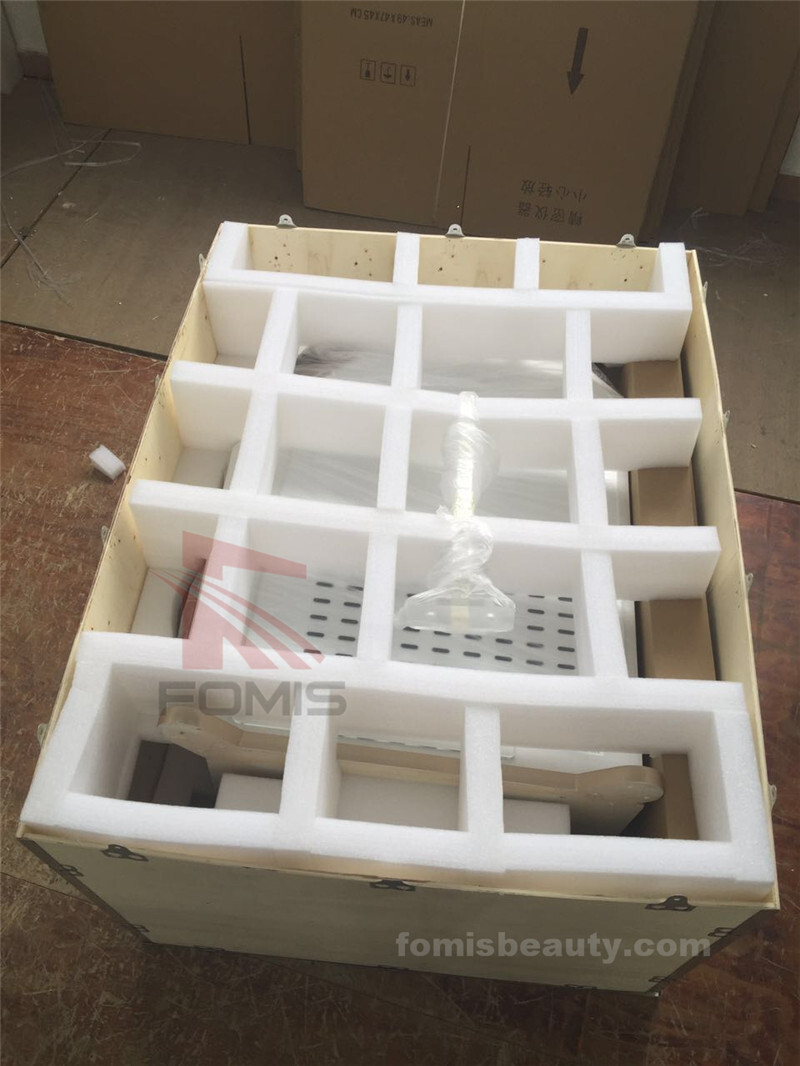 Taboos(who are not suitable to use this machine?
a)Pregnant
b) Isolation in the sun
c) Sensitive to light or medicine, or are taking medicine that sensitive to light
d) Using vitamin within 6 months
e) Not representative naevi or malignant pathological changes in the treatment area.
f) Pacemaker or quiver dispelling device user
g) Herpes or trauma
h) Pimple record
i) People who accept Hirudin etc. treatment (should stop using it before 2 weeks).
j) Severe diabetes patient, high blood pressure sufferer, and epileptic
FAQ:
Q1. How long is the warranty good for?
A1. One year warranty.
Q2. What if any quality problems during guarantee period?
A2. We can provide free technical support and software upgrades.
Q3.Can we print my Logo on the products?
A3.Yes, we can. We support OEM .
Q4.What's your delivery time?
A4.Within 3-7 working days after your payment.
Q5.How many kinds of payment term do you have?
A5.We accept Western Union, Money Gram and T/T.
Q6.What should I do if I don't know how to use the machine?
A6.We have operation video and user manual for your reference, and also we
provide you 24 hours on line service.
Q7.What's your transportation modes?
A7: We can transport the goods by air, by sea or door to door, it will be based on customer's requirement.
If you still need more products about Golden Model skin rejuvenation 360 magneto optic ipl shr super hair removal machine we recommend you:
360 magneto optic hair removal machine
,
1064 yag laser hair removal
,
99000 flashes home use ipl
Tags: ipl shr super hair removal, 360 magneto optic ipl shr, skin rejuvenation ipl shr hair removal
Type:

IPL
IPL+ RF:

Yes
Certification:

CE
Place of Origin:

Guangzhou, China
Brand Name:

FOMIS
Model Number:

FMAD5-2
Feature:

Hair Removal
Name:

Golden Model skin rejuvenation 360 magneto optic ipl shr super hair removal machine
2 Handles:

HR,SR)
Filters:

NO
Size:

15*40mm2
Energy:

1-50J/cm2
Voltage:

110V/220V 50-60Hz
Power:

3000w
Screen:

8 Inch Color Touch Screen
Frequently:

1-10HZ
Function:

Hair Removal Skin Lift.skin Rejuvenation...

Your cart is currently empty.