Portable 360 Cryolipolisis Body shaping Fat Freezing Slimming Machine
Portable Cryolipolisis Body shaping Fat Freezing Slimming Machine

We are looking for distributors all over the world.
We can help you make your logo on the machine,Welcome the OEM and ODM order.
If you want to order this machine, feel free to contact +86 18126810172 sausmo@aliyun.com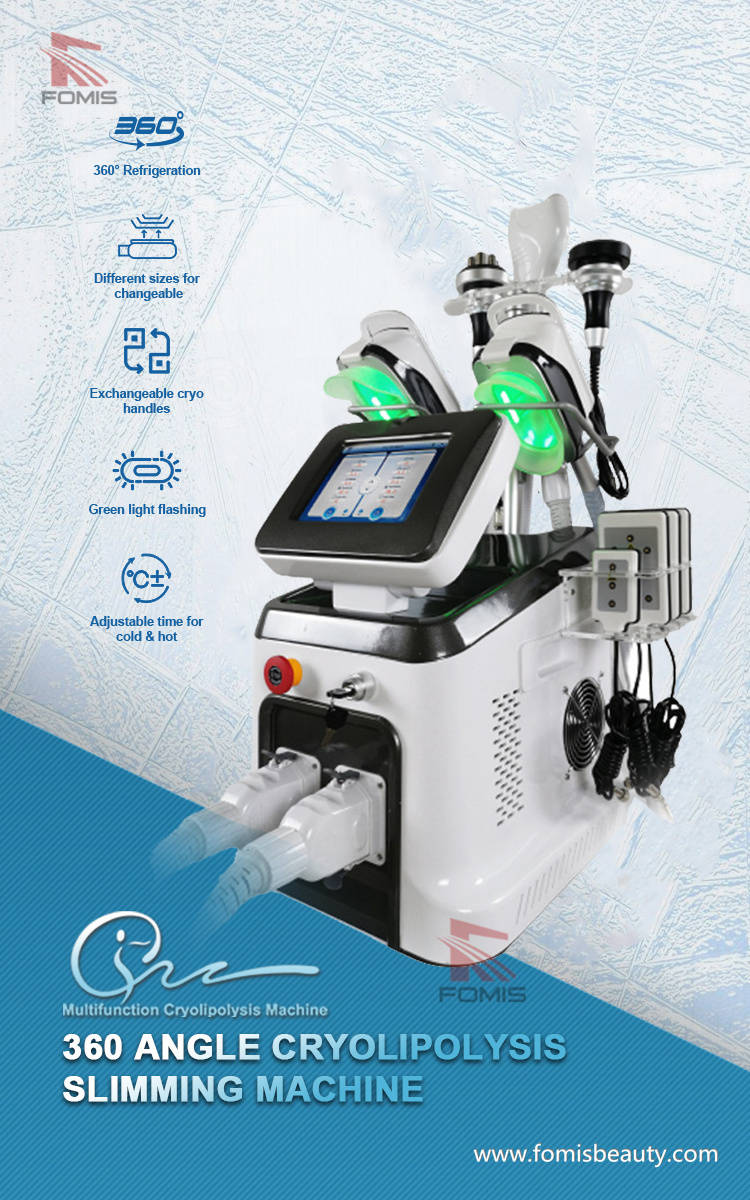 Functions of 360 cryolipolysis machine
1. Body slimming, Reshape body line
2. Cellulite removal
3. Localized fat removal
4. Lymph drainaged
5. Skin tightening
6. Pain relief for relaxation
7. Improve blood circulation
8. Combine cryolipolysis, cavitation treatment with RF to enhance slimming effect of beauty equipment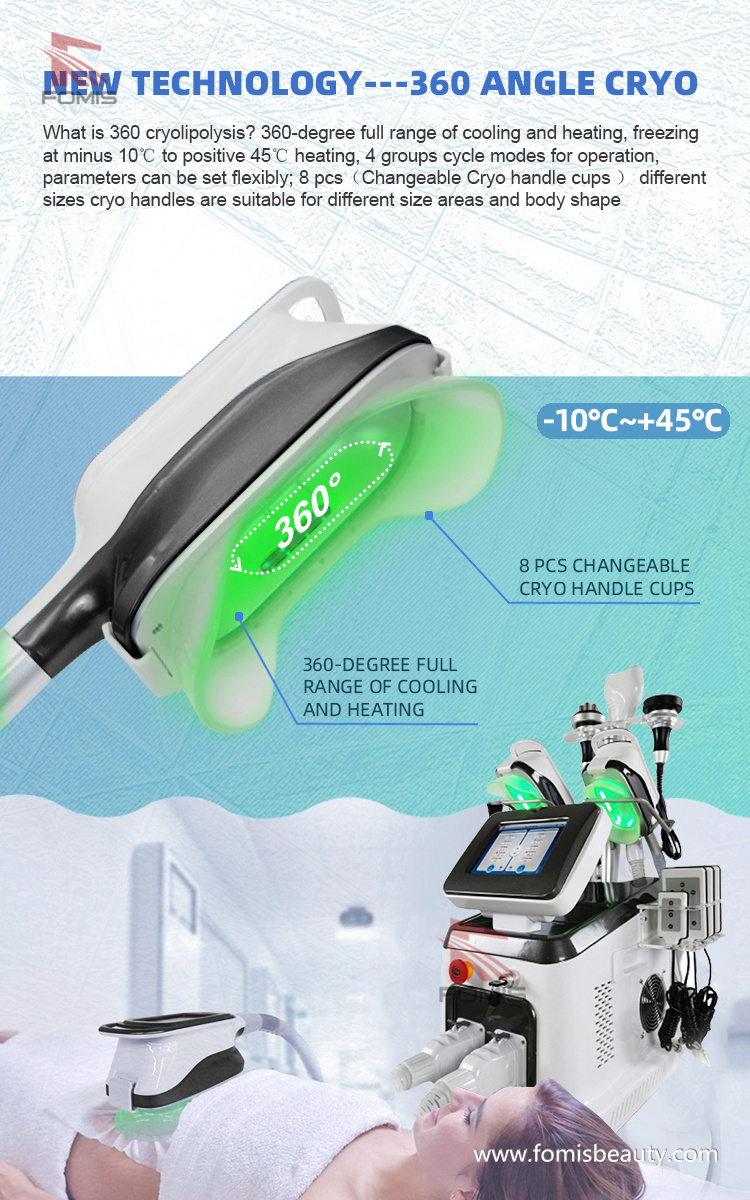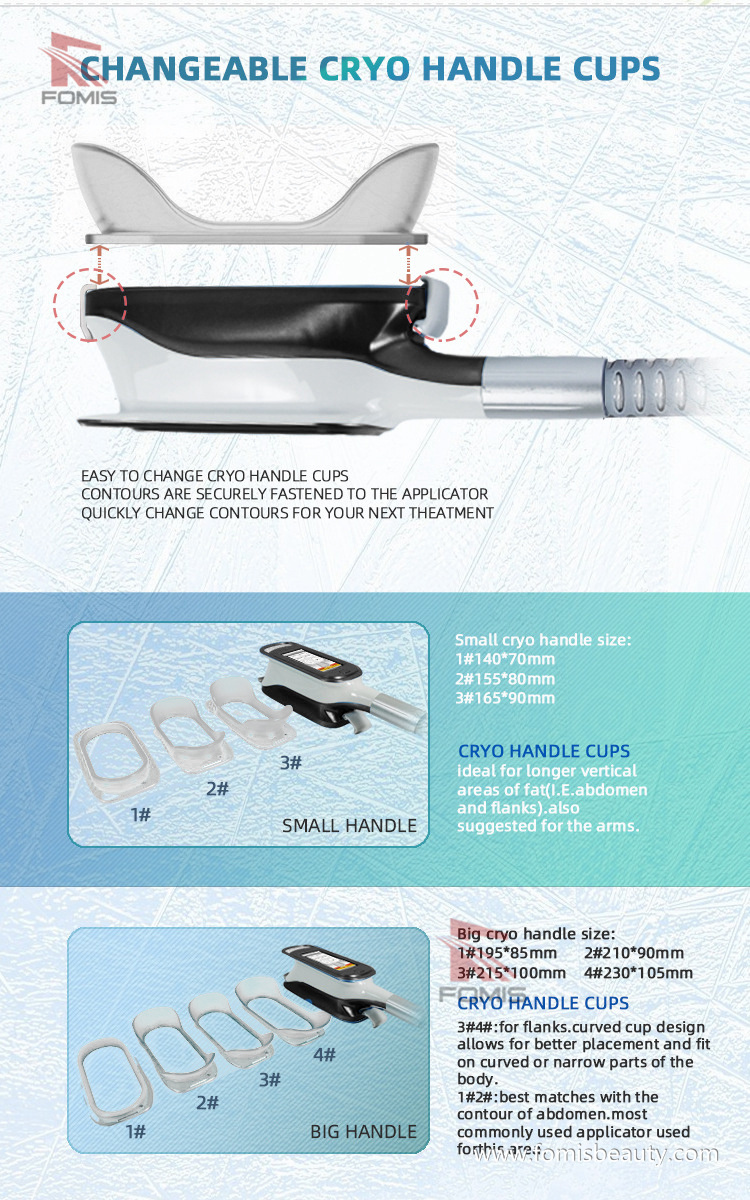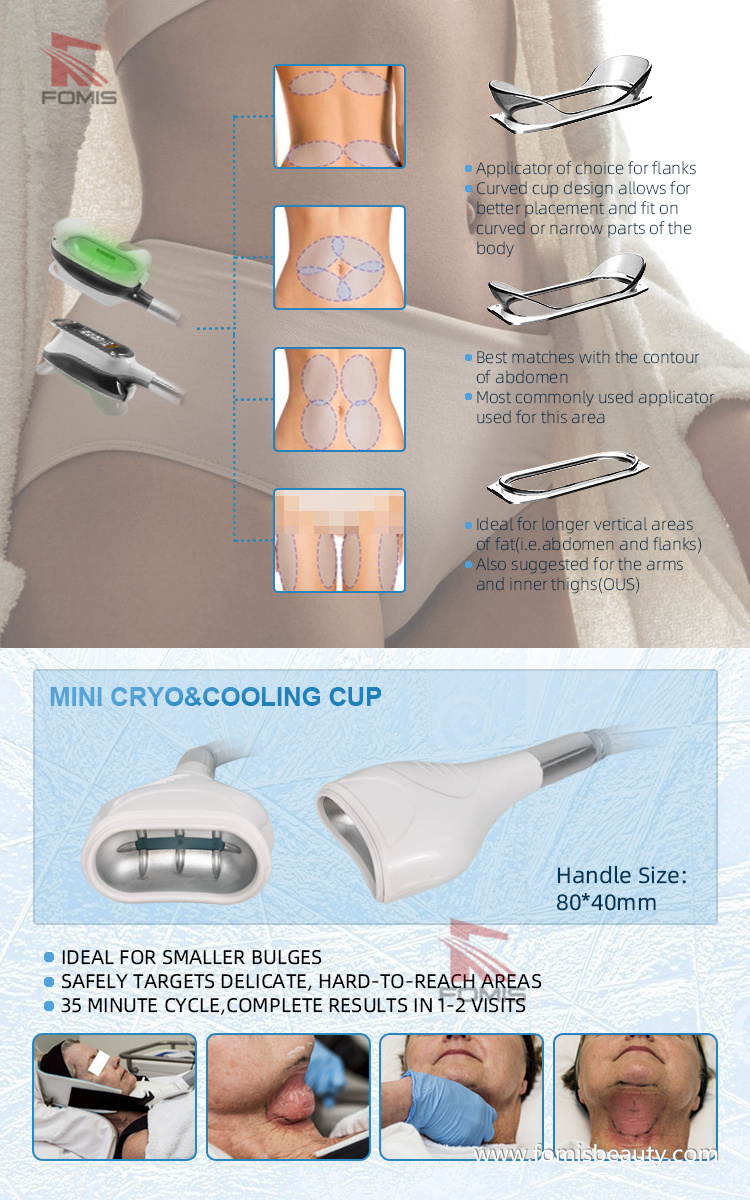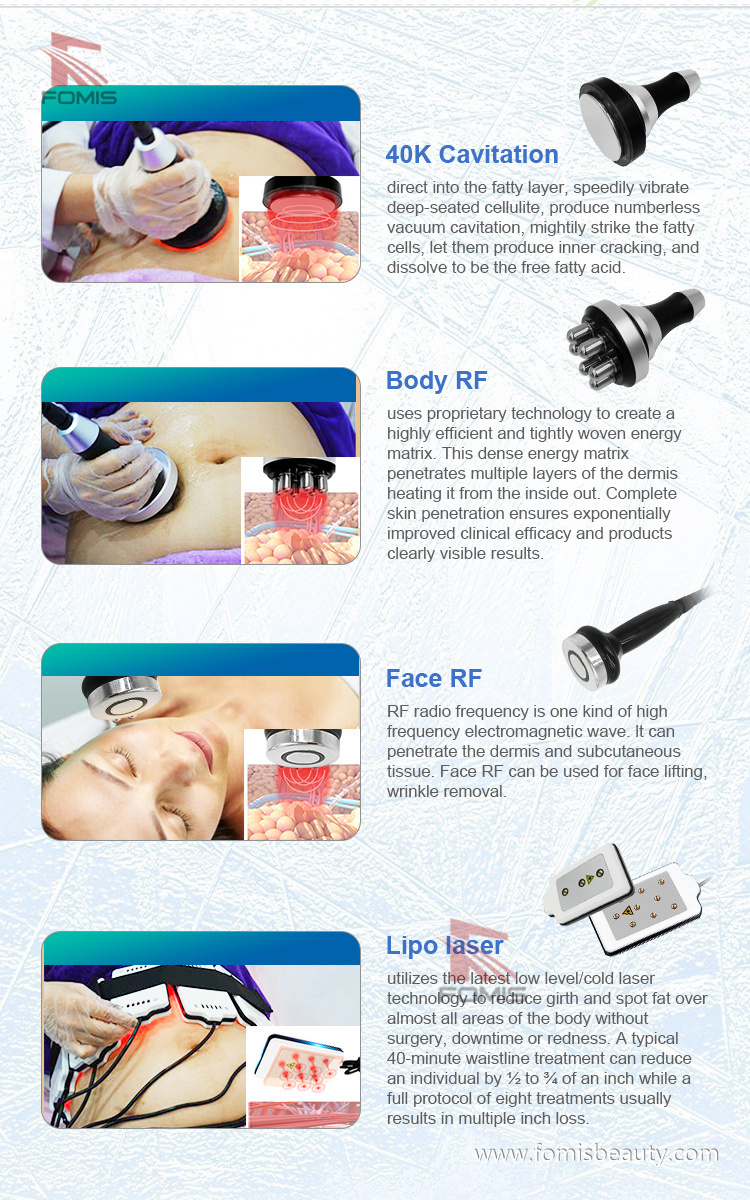 Therapeutic theory of Portable 360 Cryolipolisis
1) Cryotherapy Technology:
Cryolipolysis is a breakthrough, non-invasive procedure that uses cooling technology to noticeably eliminate fat without surgery.It uses advanced cooling technology to selectively target fat bulges and eliminate fat cells through a gradual process that does not harm the surrounding tissues, reduce unwanted fat. When fat cells are exposed to precise cooling, they trigger a process of natural removal that gradually reduces the thickness of the fat layer. And the fat cells in the treated area are gently eliminated through the body's normal metabolism process, to eliminate unwanted fat.
2)40K Cavitation:
Strong sound wave explosion fat head with collective strong sound wave head,strong sound wave of 40KHz may be emitted to human body for impacting fat cells fiercely and causing friction motion between fat cells.This may cause effective consumption of calories and moisture in fat cells and reduce the size of fat cells.what's more ,sound wave vibration may cause fierce impact of fat cells to make them be exploded instantaneously,reduce the amount of fat cells and thereby achieve the effects of removing fat.
3) Multipolar 5MHz RF :
Radio frequency is a rate of oscillation in the range of about 3KHZ to 10MHZ. With the high frequency of the radio waves ,it can deep into the fatty skin layer ,breakdown the fat membrane, change the collagen formation , encourage the fibroblast migration and lay down of new collagen. Most of the RF energy enter into the deeper dermal layer, make the dermal layer of skin thicken, decrease wrinkle depth, leave the skin firmer with contour lifted.
4) Lipo Laser:
Lipolaser emits low levels of laser energy, which creates a chemical signal in the fat cells, breaking down the stored triglycerides into free fatty acids and glycerol and releasing them though channels in the cell membranes. The fatty acids and glycerol are then transported around the body to the tissues that will use them during metabolism to create energy. This process of fatty acid release is a natural response of the body when the body needs to used stored energy reserves, thus Lipo is not creating any unnatural reaction in the body nor does it affect or damage any surround.
Features of 360 cryolipolysis machine
1. Two cryolipolysis handpieces working simultaneously.
2. 8 size head for abdomen, thigh, arm, back, waist, chin treatment.
3. Soft silicon replacement head make treatment comfort
4. 360° large contact cooling area handpiece design
5. Super cooling system:Water+wind+semiconductor+condenser
>5 hours continuously working under -5℃suits busy doctors
6. Handpiece color touch screen control system build inside.
Parameter: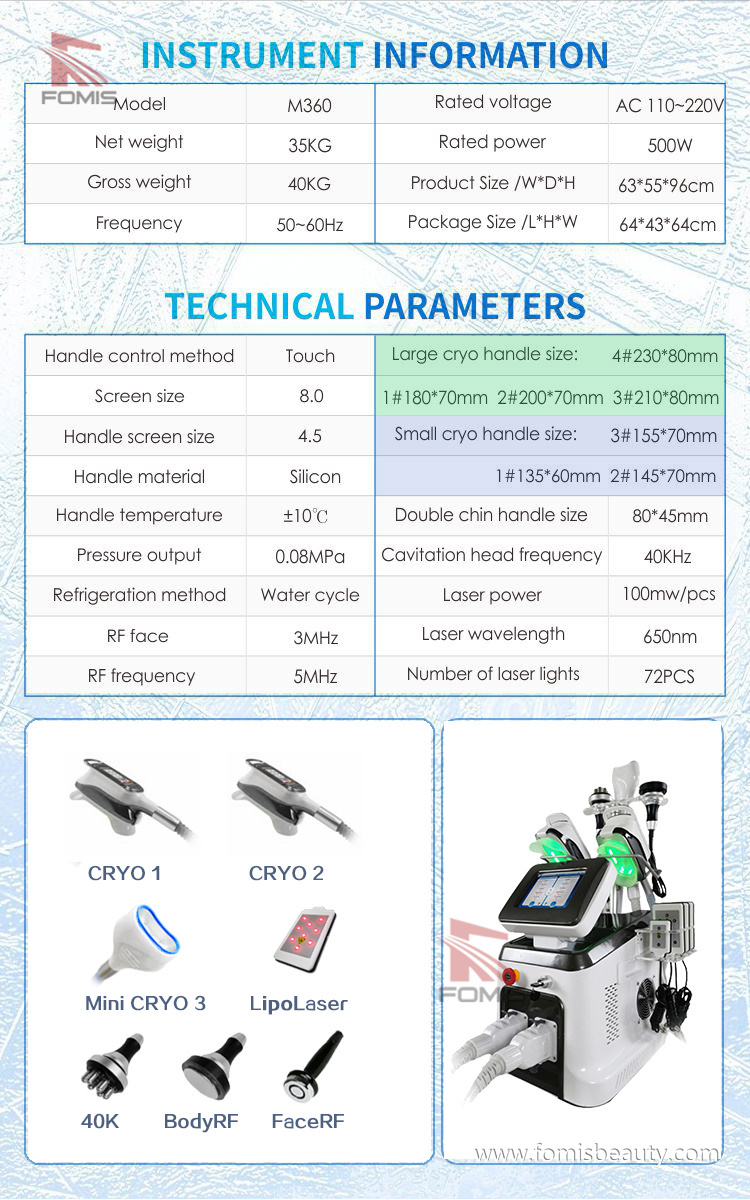 Why choose us?



1. We are a professional manufacturer of beauty equipment with 12 years of experience.

2. We specialize in manufacturing the following products: a) LED skin beauty machine b) Real air hole slimming machine c) LED liposuction instrument d) Health and beauty equipment, e) Facial beauty equipment, nd yag laser, diode laser, ipl, hydrafacial etc.

3. Most of our products have CE certification,

4. The warranty period is one year.

5 . We are one of the best manufacturers because we have our own best team to design and manufacture products. We have always insisted on giving customers the best price and highest quality.

6. We hope to achieve a win-win situation with you on the basis of equality and mutual benefit.

7. You are always welcome to visit our factory. Our company has many years of history in the field of beauty equipment.






We have a group of technicians with more than 10 years of relevant experience. From appearance design, hardware and software debugging, product assembly, product testing to product packaging, we follow strict standards in the production process. We provide customers with high-quality services with excellent design technology, excellent quality, punctual delivery and good after-sales service. Following the goal of "high quality, competitive price and good service", our products are well sold in domestic and foreign markets. Many types of our products are very popular in Europe and the United States.




1. Who are we?

Our headquarter is located in Guangdong, China. Since 2009, we have sold to North America (40.00%), Eastern Europe (35.00%), Southeast Asia (10.00%), South America (5.00%), Oceania (2.00%), South Asia (1.00%) , Southern Europe (1.00%), Northern Europe (1.00%), Central America (1.00%), Western Europe (1.00%), East Asia (1.00%), Middle East (1.00%), Africa (1.00%). There are about 51-100 people in our office.

2. How do we guarantee quality?

Before mass production, always provide pre-production samples;

Always perform a final inspection before shipment;




3. What can you buy from us?

All the beauty machine such as : hifu machine, diode laser, fractional co2 laser, ipl /e-light hair removal machine, nd yag laser, hydrafacial skin care machine, Cryolipolysis Cavitation slimming machine ,multifunction salon machine etc.




4. What services can we provide?

Accepted delivery terms: EXW, FOB etc.

Acceptable payment currencies: USD, CNY;

Acceptable payment methods: T/T, L/C, Western Union;

Languages: English, Spanish, Chinese etc.



Deatails of portable 360 cryolipolysis:


Feel free to contact me if you need. Tel/ whatsapp: +86 18126810172 Email: sausmo@aliyun.com
Place of Origin:

Guangdong, China
Brand Name:

FOMIS
Model Number:

FM360P-1
Certification:

ce
Feature:

Weight Loss, Skin Rejuvenation, Cellulite Reduction
Material:

Abs Pc
Waterproof:

Yes
Target Area:

Body
Warranty:

1 Year
Product name:

Magnetic wave
Power:

50/60HZ
Weight:

75Kg
Function:

Body Slimming
Application:

For Home Use
After-sales Service Provided:

Online support
Operation System:

Magnetic Wave
Type:

Other

Your cart is currently empty.