Freckle Removal Picosecond Laser for all Colors Tattoo removal Laser Machine
Freckle Removal Picosecond Laser for all Colors Tattoo removal Laser Machine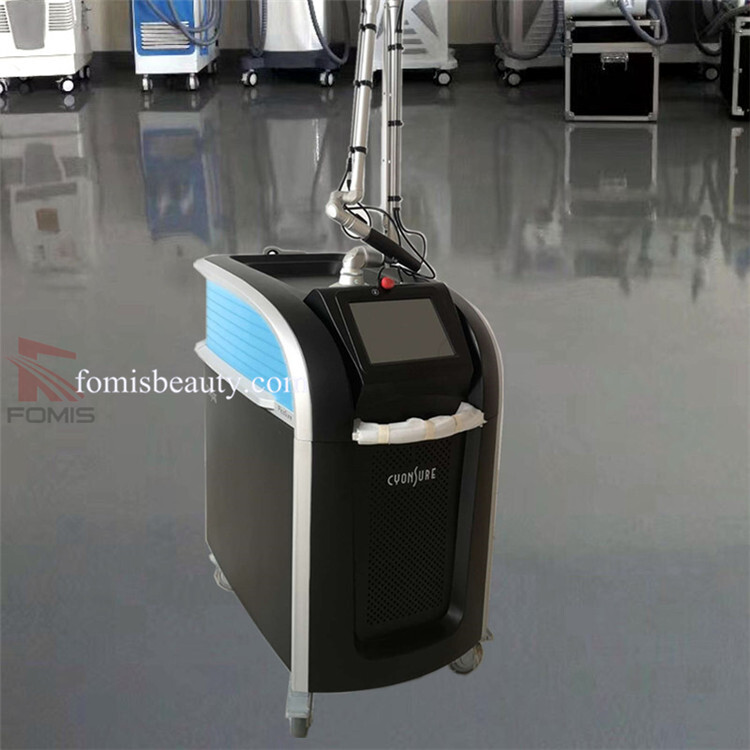 What is Picosecond laser?

Picosecond Laser is a quick and easy non-surgical, non-invasive laser skin treatment for the body including chest or decollete, face, hands, legs, and more.




The PicoSecond Laser uses ultra-short pulses (one trillionth of a second in length) to hit the melanin with great pressure, the melanin shatters into tiny dust-like particles. Because the particles are so small, they are more readily absorbed and eliminated by the body. This can mean better clearance of the melanin and fewer treatments overall.




Picosecond vs. Nanosecond (q switched)Technology

Traditional nanosecond lasers predominately rely on photothermal action, delivering heat to the pigment and surrounding tissue. Picosecond takes advantage of PressureWave Technology to shatter the target ink into tiny particles that are easily eliminated by the body.

Ultra-short Pulse Duration Is the Difference



Advantages of Picosecond laser



Excellent 7 articular-arm, to ensure the accuracy of long treatment and easy the operator's hand greatly

the powerful energy of the single pulse.

Efficiency: suitable for all types of color of the tattoo, high efficient treatment results

The alarm protection system of water flow and water temperature: protect people and machine against any risk at the first time

High quality of machine shell: ABS material

Perfect cooling system: closed-off water circulation + air, good performance for a long time working.



1 High-Tech

Picosecond laser machine used unique Honeycomb Focused technology to form a skin effect visualization, which can protect skin from damage during treatment.

2 Fast Effective

Picosecond laser machine make tattoo & pigment removal treatment process from 5 to 10 times reduced to 2 to 4 times, greatly reduce the treatment and recovery time, with fast and obvious effective.

3 Comfortable & Safe

It can remove all kinds of pigment and tattoo effectively and safely because picosecond laser use precise positioning of the target tissue therapy to reduce damage to the skin to achieve the freckle effect

4 No melanin precipitate

The melanin shatters into tiny dust-like particles. It will significantly reduce postoperative swelling, melanin precipitate phenomenon.




1.No matter which kind of spot the skin is, Pico-Second laser remove all of them

2.No matter which color the tattoo is, Pico-Second laser remove them easily

3.No worry melanin comes back again after treatment

4.The most safety product for pigmentation removal



More Advantages :

1. Easy to operation, 1064nm and 532nm,755nm can switch automatically by press different button on the screen.

2. Big power supply, so the machine is powerful.

3. Can adjust the spot size when switching the head.

4. Big water tank, so the cooling system is very good.

5. Metal shell, safe during the transport.



Parameter:

Screen:10.4' inch color touch display

Net weight:117kg

power:2000W;

over-current protector model:220V,10A

wavelength:1064nm;755mm;532nm

output frequency:1-10hz;

spot diameter:1-7mm adjust;

cooling system: Wind+water

Standard: Single way,10HZ,1000 mj

High match:double ways,10HZ,1000 mj

Top match:big double ways,10HZ-20HZ(Optional),1000-2000 mj(Optional), Multiple pulses.



Application:

• Skin whitening, Skin Rejuvenation and wrinkle removal, etc

•Remove:

All color tattoo, eye line and lipline

Epidermis and dermis pigment

nevus of Ota, blue naevus, black nevus,

coffee spot, Senile plaques, freckle, sunburn spot, and chloasma.



Place of Origin:

Guangdong, China
Brand Name:

FOMIS
Model Number:

FMA36
Q-Switch:

Yes
Laser Type:

picosecond Laser
Style:

Stationary
Type:

Laser
Certification:

CE
Feature:

Pore Remover, Pigment Removal, Pigmentation Correctors, Wrinkle Remover, Tattoo Removal
Application:

For Commercial, Salon,Clinic
Warranty:

1year
Voltage:

110V/220V
Color:

Black
Service:

ODM OEM
OEM&ODM:

Accept
Function:

Tattoo Removal
Key words:

picosecond laser machine
Product name:

Freckle Removal Picosecond Laser for all Colors Tattoo removal Laser Machine
Wavelength:

1064nm/532nm/755nm
Input voltage:

220V/110V

Your cart is currently empty.