12 IN 1 Hydra facial vacuum cleaner deep pore cleansing oxygen jet peel facial machine
12 IN 1 Hydra facial vacuum cleaner deep pore cleansing oxygen jet peel facial machine



Technology: Oxygen Injector +Oxygen Sprayer
1. Since the ultra-small small bubbles are only 10 microns in diameter, they easily penetrate into the pores and carry away the dirt in the pores.
2. A large number of bubbles dissolve and rupture in water, and ultrasonic waves generated during rupture can generate a large number of oxygen anions.
3. The beauty skincare, whitening effect, brighten skin tone, moisturizing and hydrating, increase elasticity.
4. Clean the skin by small bubble blasting, remove excess keratin accumulation, improve the keratinization through the introduction of various nutrient solutions, and maintain the skin's stratum corneum barrier function.


Precautions:
1. Please do not operate on damaged skin.
2. It is necessary to clean the waste water in the recycled bottle in time to avoid damage to the machine parts caused by overflowing the waste water.
3. Each type of crystal head can be directly cleaned with water and immersed in physiological saline.


Application:
1) Ultrasound head: promote microcirculation, skin rejuvenating
2) Multipolar RF: compact shaping, face lifting
3) Bio microcurrent: let jawline tightened, Bio raises the overall tightening of facial skin
4) Hydrodermabrasion: facial cleansing, peeling, pore cleansing
5) cold hammer: cold down skin after treatment
6) oxygen spray gun: skin rejuvenation
7) Colorful Led beauty Mask: Solves the whitening, skin aging problem fundamentally


Advantage
1. Hydro-dermabrasion, applicable to regular or sensitive skin, Or skin with whelk, comedo, acne, etc.
2. Cleaning&washing: deep cleaning, clear skin stratum rheum, minimally invasive scar, and clearing blackhead, remove deep skin dirt
3. Effective and direct moistening: supply sufficient water molecules to the skin while cleaning
4. Used the skincare products to achieve a large variety of treatment aims like wrinkle/pigmentation removal, skin lightening, and whitening.


Treatment Range:
Acne, seborrheic alopecia, folliculitis, mites clear, clear skin allergens;
Skin whitening, improve skin dull, yellowish, improve skin texture;
Deep clean the skin, while giving the skin moisturizing, nourishing;
Reconstruction and non-ablative skin reconstruction surgery;
Shaping firming skin, shrink pores, improve a double chin. Deep Cleaning; Acne Treatment; Skin Whitening; Shrink Pores;
Anti-aging; Skin Moisturizing; Skin Tightening; Mites Clear


Handles functions
Bubble cleaner handle:
First clean skin with Bubble cleaner handle. Suck skin from middle to both sides, slide quickly, do not stay too long. For sensitive skin, use flat tip and Vortex tip.
Use the tip with matte surface for Large pores and T zone.
( Attentions for using "Bubble cleaner handle"After each use, pouring half of the bottle of 60 hot water into the machine, then power on and press the suction head with the thumb,cleaning the inside of the machine, so it is not easy to block.)


BIO Micro-electric therapy handle:
BIO face lifting, Increase cell permeability, help body better absorption of nutrients and water, oxygenated blood.


RF Radio Frequency handle:
Open the pores, positioning tissue heating, open the pores to promote subcutaneous collagen contraction and taut, relieve wrinkles, produce new collagen.


Ultrasound handle:
The Ultrasound import products deep Into subcutaneous tissues. promote microcirculation and skin renewal.


Seven-color light wave therapy for Mask:
Supplementing needs of skincare; strengthening the base and help to absorb for follow-up care. Improving pore to improve skin tightness effectively; Restoring skin smoothness, tenderness and luster. Giving skin nourishing and moist from inside to outside,it is the source power of skin elastic and smooth.


VANADIUM-TITANIUM:
Digesting forehead wrinkles; Improving the gloss of forehead skin; Improving the fine wrinkles, micro spots and dryness of the eye corners; Remodeling skin plump and brighten the skin; Shrinking pores; Improving sagging jowls, skin flabby, dry; Diluting the neck wrinkles.


Ice repair handle:
Ice repair handle can freeze skin, shrink pores, the ice energy can penetrate from epidermis to deep skin, instantly promote strong contraction of skin pores, thus a layer of natural freezing mask is formed in the skin surface to lock nutrition facts.


Oxygen spray handle:
The high frequency atomizing vibration of hydrated and tender skin enables the water molecules to be decomposed into 0.28um nano-level spray particles


Vibration Massager:
V face and model body; Tightening the tender skin; Relieving nerves and fatigue; Shrinking pores; Diluting edict wrinkle and eye wrinkles,can also use as body probe, shoulder, neck and waist massage; Warming uterus and strengthen daily uterus care.


3.0/4.5mm Vmax Radar Shaping Handle:
According to flimsy or thicker skin types; Shaping "V" facial lines, Firming skin; Tightening the tender skin; Relieving nerves and fatigue; Shrinking pores; Diluting edict wrinkle and eye wrinkles.
Scubber:
deep clean skin, remove the Dead skin and blackhead.



Steps of Operation:
1. Connecting accessories which are needed well.
2. Connecting power and opening the main power of machine, the machine comes into state of standby.
3. Choosing the accessories(Bubble cleaner handle,BIO Micro-electric therapy handle, ect.) you need.
4. Setting the time-intensity well.
5. Pressing "START" for operating.
6. Setting the relevant output, using the appropriate accessories for caring;
7. After caring, please remove the accessories to clean and dry, placing in a dry and ventilated place.
Parameter:
Bubble releasing skin cleaning pen 1PC
Micro electrical therapy head 1PC
Ice skin-repairing treatment head 1PC
Water oxygen Injection head 1SET
Vibration Massager handle 1PC
Scrubber 1pc


LCD Screen: LCD color touch screen
Input Voltage:110V 60 Hz / 220V 50Hz
Details: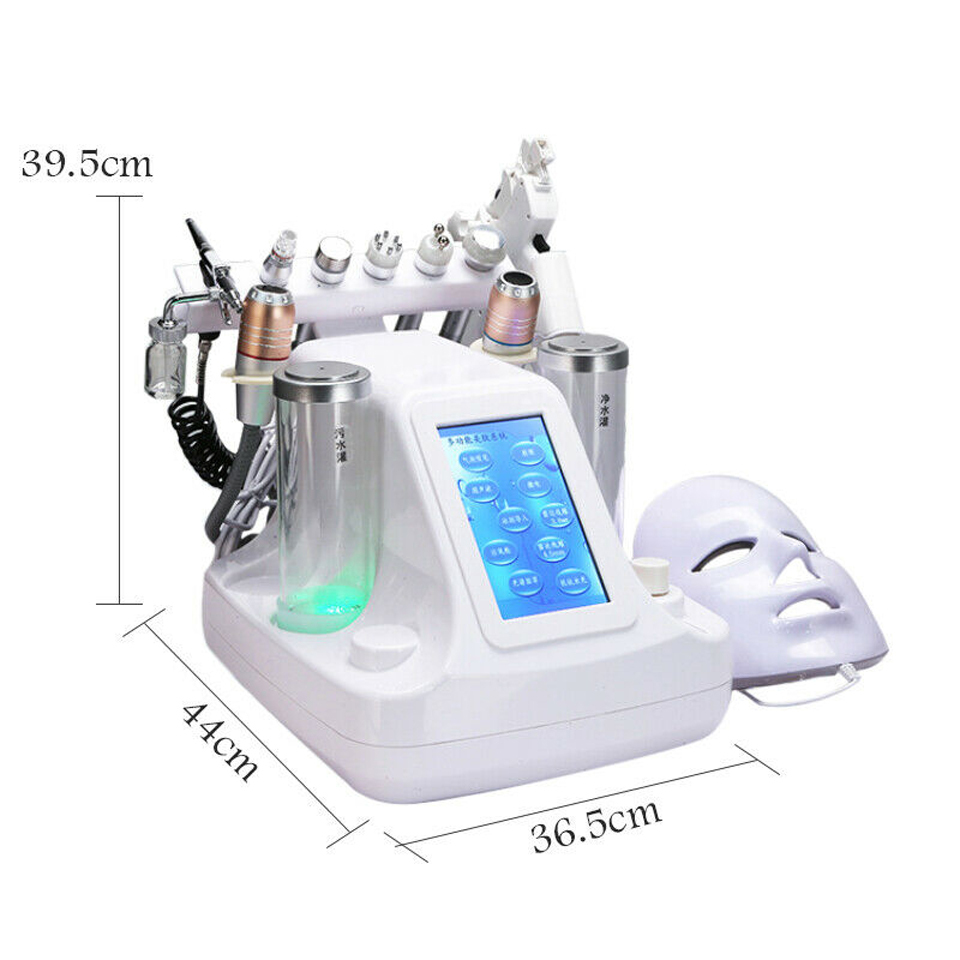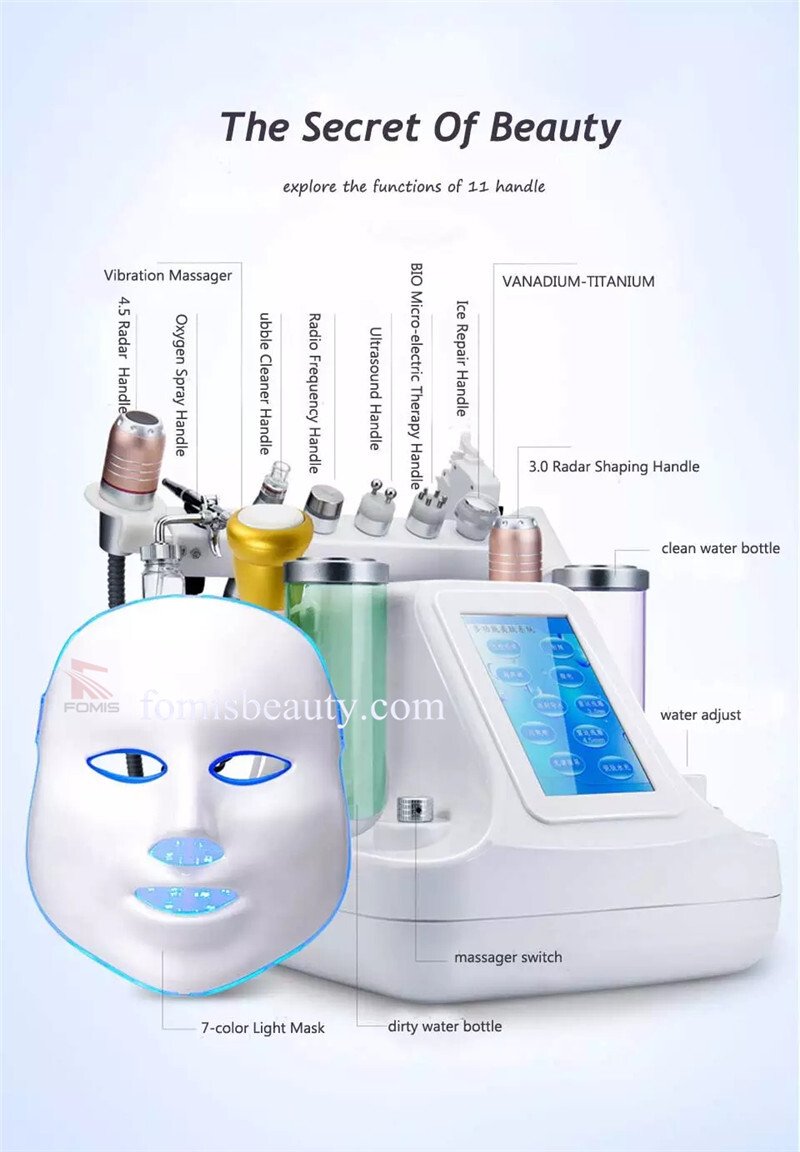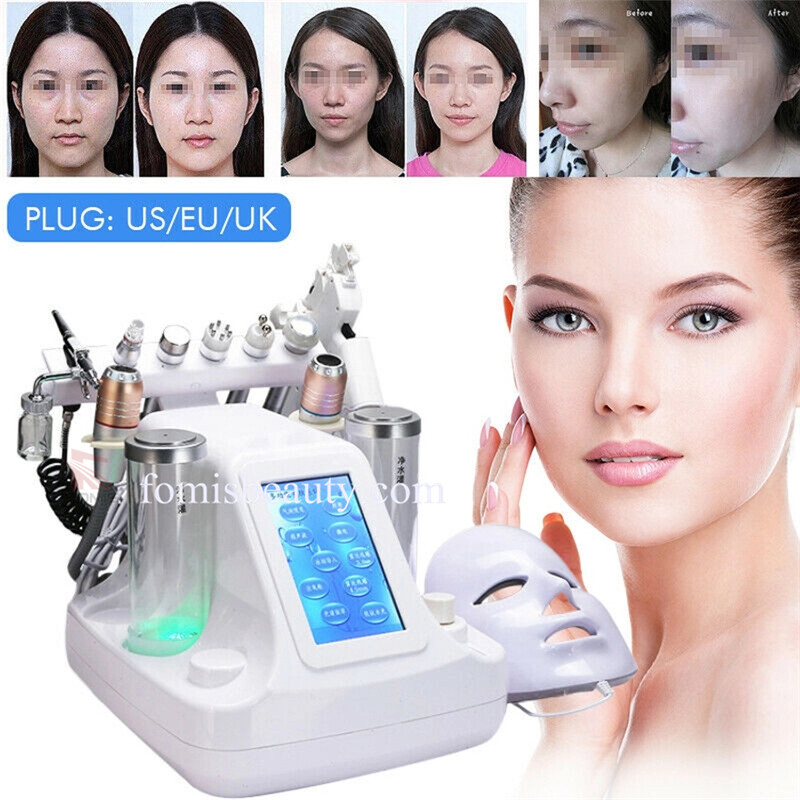 If you want to compare some other hydrafacial machine, click this picture:
↓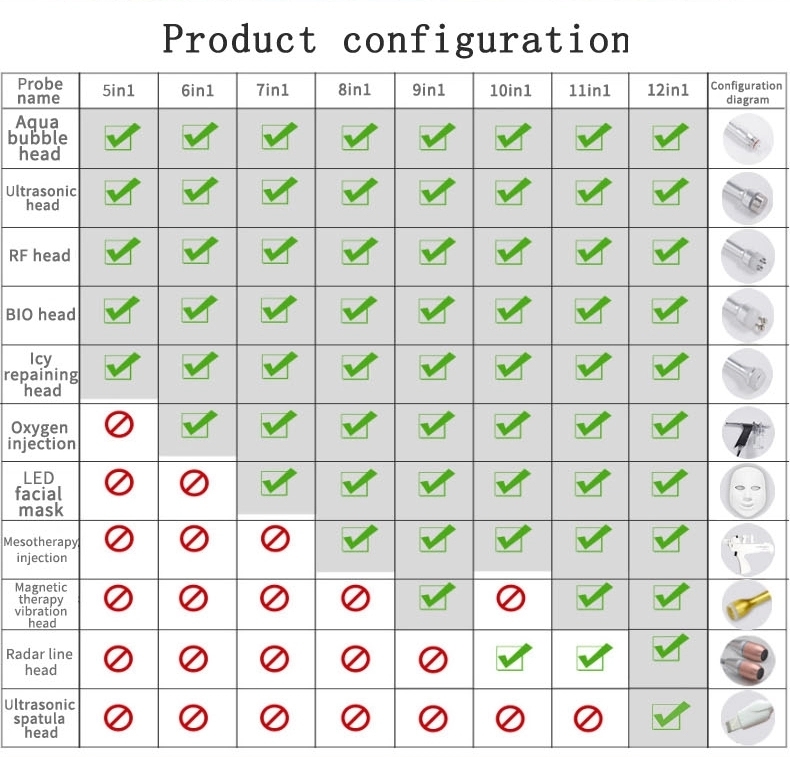 Brand Name:

FOMIS
Model Number:

FMH12
Feature:

Multifunction
Application:

For Commercial,HOME USE
Certification:

CE
Warranty:

1 YEAR
Product name:

12 IN 1 Hydra facial vacuum cleaner deep pore cleansing oxygen jet peel facial machine
Function:

Skin Rejuvenation
Material:

ABS+Stainless Steel
Voltage:

100-240V
Size:

47*37*48cm
Package:

Carton Box
Shipping Method:

DHL UPS FEDEX EMS TNT

Your cart is currently empty.